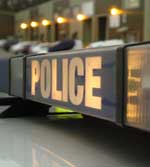 Police have arrested a man and a woman from Maidstone this morning following an investigation into the alleged exploitation of Lithuanian men working in the food industry.
Working in partnership with the Gangmaster Licensing Authority and UK Human Trafficking Centre (UKHTC), officers executed a warrant at a property in Maidstone today. The two, a man aged 52 and a woman aged 50, were arrested on suspicion of human trafficking for labour exploitation offences.
The action was taken following an extensive multi-agency investigation after allegations were made that workers were being forced to live in squalid conditions and threatened with violence if they did not comply with their supervisor's instructions.
The action was co-ordinated by DI Keith Roberts who said: "Today's arrests form part of an extensive investigation by Kent Police, The GLA and UKHTC. It follows on from reports received that migrant workers have been made to live in poor conditions and forced to work in an environment that gave little or no regard to their safety or general wellbeing.
"By working with our partner agencies we have been able to make these arrests and workers will now be offered help and support. "
Anyone found to be committing exploitation offences will be investigated fully and brought before the courts "
Ian Livsey, chief cxecutive of the Gangmaster Licensing Authority said: "Working with our partner agencies we have cracked down on potential exploitation in the food supply chain. There is no hiding place for those who exploit the vulnerable, and neither we nor our partner law enforcement agencies will tolerate abuse of the vulnerable worker.'
Liam Vernon, deputy head of the UK Human Trafficking Centre at the Serious Organised Crime Agency, said of the arrests: "It's alleged that the men, who will now receive specialist care and support from SOCA's Vulnerable Persons Team and the Salvation Army, were subjected to slave-like conditions and controlled through the use of violence.
"Investigating trafficking for labour exploitation is a challenge to us all as victims are kept locked away and unseen by society."
"I urge anybody with information than can lead to the identification and rescue of a victim of trafficking to share it with the police."