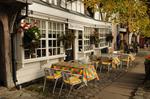 Hundreds of campaigners are expected to take part in a protest tonight against plans to open a supermarket in a rural community.
People from Lenham are staging the demonstration in the village square, off the High Street, at 7pm.
Traders, clubs and homeowners formed a campaign group to help fight plans to transform the former ironmongers, in Faversham Road, into a branch of the Southern Co-Operative.
They have secured the support of TV personalities Carol McGiffin and Ian Hislop, and Hugh Robertson, MP for Faversham and Mid Kent.
Mr Robertson's constituency office was above the ironmongers before it was destroyed in an arson attack in 2010.