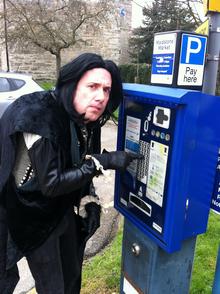 by Chris Hunter
Now is the winter of our discontent - especially if you're trying to find a parking space in Maidstone.
Fresh from being dug up in a Leicester car park, none other than King Richard III (or possibly Maidstone director Rob Forknall dressed up as him - it's hard to tell the difference) arrived in the County Town this week, only to find himself stuck in another car park nightmare.
The famously hunched nephew-confining 15thC monarch has been turning up at car parks around Kent to promote a Changeling Theatre production of the Shakespeare play that bears his name, which is due to tour the county this summer.
But he couldn't work out how to use the ticket machine in the pay & display off College Road so had to park on yellow lines outside, then muttered something about the one-way system having changed Maidstone since he was last here and went off looking for a horse near the Archbishops' Palace.
Read more in the Kent Messenger this week about Changeling Theatre's 2013 outdoor summer tour.