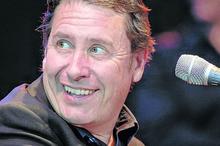 Music fans flocked to Maidstone Studios on Tuesday night to attend the first filming of Later...With Jools Holland.
The BBC show has moved to the County Town's studios from its former Television Centre home in Shepherds Bush.
Holland, who lives at Cooling Castle and is a Deputy Lieutenant of Kent, welcomed the audience to the studios in Maidstone, which he described as the capital of the Garden of England.
The first programme aired last night on BBC2 and a feature on Jools Holland at Maidstone Studios appears in What's On, free with the Kent Messenger on Friday.