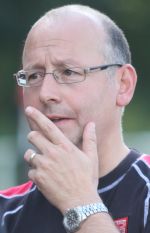 By Craig Tucker
Maidstone Rugby Club clinched the London 3 South East title with their best display of the season.
They thrashed Horsham 95-12 at The Mote last weekend and need four more wins to complete the season with a 100% record.
Coach Andy Foley (pictured) was delighted to land the title but is switching his focus to Maidstone's bid to reach the Senior Vase final at Twickenham.
He said: "It was great to win the title with what was probably our best performance of the season. Horsham are a good side and they kept coming at us but to score 95 points says a lot about us."
He added: "The priority this year was to win the league and that's done and dusted. A lot of people are talking about the 100% record but I'd rather keep it off the radar.
"It's not often it happens and it's a hard thing to achieve. The boys want to go through the season unbeaten but I'd rather concentrate on the Senior Vase.
"We're 160 minutes away from Twickenham and want to go one better than last season when we reached the semi-finals."
Maidstone, who host Cantabrigian in the Senior Vase regional final next Saturday (March 16), still have a part to play in who joins them in London 2 South East next season.
This Saturday they travel to second-placed Sheppey