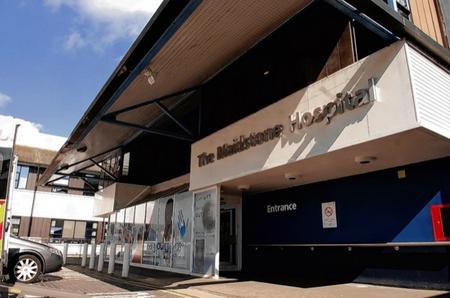 by Mary Graham
Maidstone and Tunbridge Wells NHS Trust revealed this week it could be hit with a £3.5 million fine due to the number of C-diff infection cases at its hospitals.
The trust found itself at the centre of a "superbug" scandal in 2007, when clostridium difficile was named as contributing to the deaths of 90 patients between 2004 and 2006. In the same two years there were 1,176 cases.
The Healthcare Commission's 2007 report revealed the scale of the hygiene failures, which included patients being told to soil their beds.
Since then, infection rates have been strictly monitored and every hospital trust is set targets on infection cases.
The South East Coast strategic health authority set Maidstone and Tunbridge Wells NHS Trust a limit of 49 from April last year to the end of March this year.
As of Tuesday, there had been 47 and the trust's infection experts forecast that by the end of March there will have been 56.
Each incident over the limit carries a £500,000 fine, meaning the trust could stack up £3.5m in penalties if its prediction is correct. At a stroke this would wipe out £500,000 of savings made last year when 20 people took redundancy.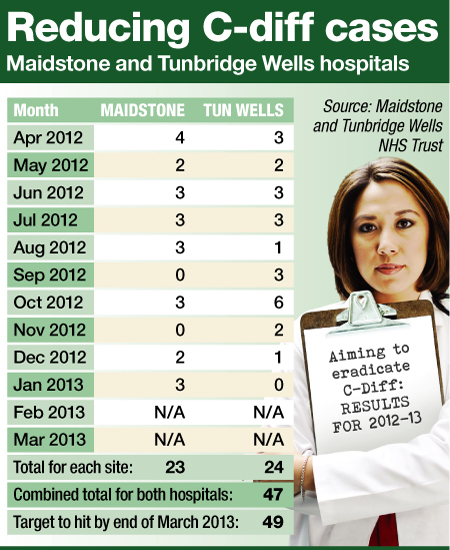 Dr Sara Mumford, director of infection prevention and control, said: "At this point we are not on course to meet the challenging target.
"It is particularly important to emphasise that regardless of this we are on course to achieve a reduction in the number of C-diff cases compared to last year and over the past six years we have consistently reduced the number."
In 2010-11, the trust reported 67 cases, which dropped to 64 in 2011-12, a 4.5% reduction.
Trust spokesman Darren Yates said: "Our target is 49, a 24% reduction on last year, so even if we go three cases over target, we'd still see one of our biggest reductions in the last two years with a corresponding year on year fall of 19%, although we accept that every case is one too many."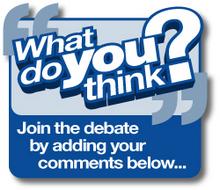 The trust has looked at whether strong antibiotics, which can cause people to have less resistance to bacterial infections, are being routinely prescribed to people before admittance to hospital.
External assessors have examined hygiene practices and no issues have been found, wards have been deep cleaned and reminders have been issued to all staff.
But managers admit it is difficult to assess hand hygiene in single rooms at the Tunbridge Wells Hospital.