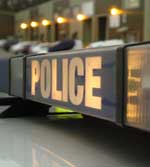 Three 14-year-olds have been arrested on suspicion of burgling a house in Shepway, Maidstone.
Following reports of anti-social behaviour in the Worcester Road area, PCSO David Earl arranged for extra patrols to try to tackle the issues.
Yesterday afternoon (Monday) police received a call reporting criminal damage in progress. When police arrived on the scene, three 14-year-olds were arrested on suspicion of burglary. The two girls and one boy were later released on bail until Monday, March 18, pending further inquiries. A 10-year-old boy also arrested in connection with the offence is currently on police bail.
Insp Jody Gagan-Cook from Kent Police said: "Anti-social behaviour can be very upsetting for those affected by it, and we work closely with the local authorities and other organisations such as housing associations to tackle it and support local residents.
"In this instance we had additional patrols in the area that were at the scene within a matter of minutes and were able to arrest the suspects. I would encourage anyone who witnesses such behaviour taking place to report it to us so we can take action."