It's beginning to look a lot like Christmas following Maidstone's festive lights switch-on last night.
Crowds packed the town centre to see Jubilee Square and Fremlin Walk lit-up four weeks before the big day.
kmfm stages set-up at both locations hosted a variety of acts ahead of the illumination ceremony - with the lights turned on by kmfm breakfast presenters Rob Wills and Emma Saint.
Chart-busting girl band, Parade, warmed the audience on a cold, blustery night with a lively song and dance set.
All-male performing four-piece, J.U.K.E, who are seemingly destined for big things, supplemented the seasonal excitement which was given added sparkle by a stunning show from Maidstone's Mandy Ellen School of Dance.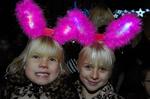 Panto stars from the cast of Cinderella, which starts at the Hazlitt Theatre on Saturday, December 8, were joined on stage by Father Christmas to perform the all-important lighting-up duties in Jubilee Square.
The colourful gang carried out the same task in Fremlin Walk where gold tinsel fluttered through the air as the shopping mall, filled with festive food stalls, exploded into light.
Chloe Sims,star of TV's The Only Way Is Essex, joined the onstage countdown before heading to Waterstones for a book signing where long queues of excited youngsters awaited.
Laura Harper, 17, from Shepway, was among crowds in Fremlin Walk enjoying the entertainment. She said: "The town put on a really good show.
"The lights look great and it's really put me in the mood for Christmas.
"People of all ages are here, not just chavs, which looks really good for Maidstone."