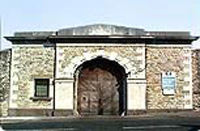 Exclusive by Angela Cole

Maidstone Prison is to become solely responsible for Foreign Nationals by this summer, it has been announced.
The changes are partly as a result of the planned closure of Canterbury Prison and Bullwood Hall Prison in Essex.
The jail in County Road was re-rolled as a specialist sex offender establishment with Foreign Nationals in 2009.
Governor Andy Bell made the announcement to staff yesterday (Thursday)January 31. He said: "It is our experience in dealing with Foreign Nationals, our strong working relationship with the UK Border Agency and our ability to deliver that has led to the increase in Foreign National offender numbers. There may be changes to staff roles but I am sure we will work together over the coming months to make this transition as smooth as possible."
The Category C prison has a capacity of 600 inmates, of which currently around 40% are Foreign Nationals.
A dedicated project sponsor from the National Offender Management Service (NOMS) has been appointed who will support staff and managers during the transition, which will include moving sex offenders to other establishments.
A Ministry of Justice spokesman said: "HMS Maidstone is to change roll... building on the existing good work that already takes place with this group of offenders."