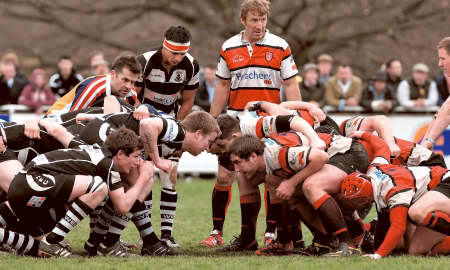 Head coach Andy Foley says Maidstone players could not have given any more than they did in their RFU Vase national semi-final defeat against Wells.
Saturday's game at The Mote was in the balance until the final five minutes when Wells grabbed a try to earn a 14-8 victory and deprive Maidstone of the chance to play at Twickenham.
Foley admitted the players were disappointed in the immediate aftermath of the defeat but said they had every reason to be proud of their performance.
He said: "The game was nip and tuck all the way and in the end could have gone either way, we were just a bit unlucky.
"We probably had a lot more possession than them, they just had one chance which they took well. Even then, into injury time we were all over them but just could not get over the line. Their defence was good and a lot of our guys said it was the toughest game they'd had.
"Initially everyone was pretty down, realising that they weren't going to Twickenham but eventually they realised they could not have done any more and they had produced a performance to be proud of."
Foley said he had no complaints about the result but was surprised at the appointment of a Dutch referee and felt that Luke Debnam's second-half yellow card changed the dynamic of the contest.
Maidstone still have two games to play in London 3 South East, both at home, against Bromley on Saturday and Sheppey on April 21.