by Nick Lillitos
Vegetarian Natasha Duffy felt physically sick when she noticed what she suspects were pieces of meat in her cheese and onion pasty.
The 21-year-old shop assistant bought it from Tesco in Tovil for her evening meal.
"I put one slice in the oven and got to eating it half way when I noticed tiny pieces of pinky coloured meat on my plate," she said.
"So I lifted up the remaining pastry and found more pieces. They gave off a foul smell on closer examination. I wanted to throw up."
Miss Duffy, of Church Street, Maidstone, said she opened up the uncooked slice to investigate further - but there was no meat present. She binned it, keeping only the offending pieces from the other slice.
The £1.50 own-brand product is labelled suitable for vegetarians.
"I was quite shocked," she added. "My partner Benjamin Turner took a sniff and he too thought it didn't smell right.
"I won't be going back to Tesco anytime soon. I'll now be sending the evidence to Tesco for examination."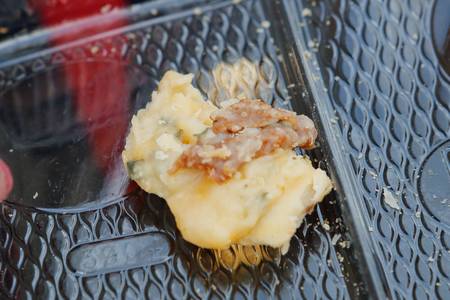 The supermarket chain has, along with other competitors, been experiencing a torrid time with revelations of horse meat found in products.
It resulted in their shelves being cleared of thousands of items, and a pledge from Tesco's top boss to source more of its meat from the UK.
Chief executive Phillip Clarke told a UK farming conference last month Tesco now wanted to "reconnect" with Britain's meat industry, provided it can meet the demand.
On the latest suspect ingredient, Tesco has promised a thorough investigation.
A spokesman said: "We were concerned to hear about this issue, and if our customer is able to return the product to the store, we will begin a thorough investigation with the supplier.
"Alternatively, we can arrange to pick up the product at the customer's convenience."