by Chris Hunter
THE Only way is... Maidstone? The idea of a reality show based in the County Town will either send you jumping up and down with excitement or running for cover.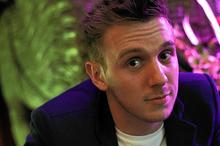 But TV producer Ben Gorman (right) says forget your preconceptions of other well-known shows when filming starts for his radical new format, For Entertainment Only.
Like The Only Way Is Essex and Made In Chelsea, FEO will follow a group of real-life young people. But fake tans and designer clothing are not centre stage as we follow the fortunes of Maidstone entrepreneur Samantha Fellows (pictured below) and th
e would-be stars of her Entertainment Agency.
"You're about to meet a group of people with a difference," says the show's trailer, and 24-year-old Ben, originally from Hempstead, agrees. They're role models," he said. "Samantha is 25 years old and she's created her own business.
"With TOWIE and Made In Chelsea, they're not really role models – they just dress up and think they're pretty."
Ben heads up his own production company, GormVille, and is convinced his new show will be snapped up after the pilot episode is seen by commissioners next year.
The pilot will be filmed in and around Maidstone in early January 8.