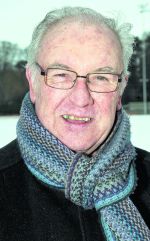 Maidstone United have signed a sponsorship deal with brewer Shepherd Neame to mark the club's homecoming.
The sponsorship deal will see the clubhouse at The Gallagher Stadium named The Spitfire Lounge, after one of the family-owned brewery's most famous brands.
It will open on Saturday July 14 – the day when the Stones entertain Championship club Brighton and Hove Albion.
To celebrate Maidstone United's return to Kent's county town, the Faversham-based brewer will launch an ale named after the club.
Club chief executive Bill Williams (pictured) said Shepherd Neame had supported Maidstone for many years.
"It's great that the brewer will be part of our homecoming," he said. "As well as kitting out the bar and stocking it with some of the company's famous brands, it is a real coup to get an ale named after the club. This will help promote the Stones and celebrate the long-awaited return."
Head of Freetrade at Shepherd Neame Giles Hilton said these were exciting times for Maidstone United and they were delighted to be part of their homecoming.
"Shepherd Neame is committed to supporting sport, investing more than £500,000 annually across the south east," he said. "The Stones' first game, against Brighton, promises to be a fantastic day for the county town."
The Gallagher Stadium on James Whatman Way is the first in the country to be built with a 3G pitch.