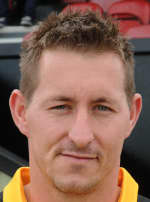 By Craig Tucker
Maidstone boss Jay Saunders has admitted it is difficult leaving captain Shaun Welford out of the team.
Welford (pictured) faces a fight to get past Ade Olorunda and Stuart King, who have scored three goals each in their last two games.
United host Tooting at the Gallagher Stadium in Ryman League Division 1 South on Saturday with Saunders reluctant to change his in-form front two.
He said: "Shaun's been brilliant this season but he'd been ill and had gone off the boil a bit.
"Ade's come in, his workrate has been superb and we felt Kingy needed a run of games to get the best out of him.
"They've played well together and scored a few goals which gives me a headache because Shaun's our captain and I don't like him not being in the side.
"He offers us so much, not just in attack but defensively as well.
"But I'm a big believer that if you're in the side and playing well, you keep the shirt."