By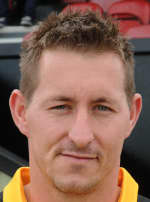 Craig Tucker
Maidstone captain Shaun Welford has apologised for a moment of madness that means he will miss the club's biggest game of the season.
Welford (pictured) was sent off for violent conduct during United's 2-0 win over Herne Bay last weekend. A three-match ban starts on Saturday, December 15, ruling him out of the FA Trophy second-round tie at Halifax.
Stones boss Jay Saunders said: "Shaun was stupid, it was a moment of madness. He apologised straight after the game but he should know better than to throw an elbow, even if he was being pulled back.
"He's our captain and he wants to play every week but he'll miss three games, including Halifax, which he's gutted about.
"Luckily for him, his team-mates dug him out of a hole and still won the game last week."
Welford is available for Ryman League Division 1 South matches at Leatherhead on Saturday and Three Bridges on Tuesday before starting his suspension.
Strike partner Stuart King will be looking for his first United goal at Leatherhead after a promising debut against Bay.
Graeme Andrews (hamstring) and Ben Davisson (foot) are ruled out while Ian Draycott (ankle) remains doubtful for the match against in-form Leatherhead.