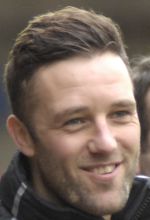 by Craig Tucker
Maidstone United co-owner Terry Casey hailed boss Jay Saunders as the "perfect manager" after insisting Stones must win promotion this season.
Stones lead Ryman League Division 1 South on goal difference going into their home game against Merstham on Saturday.
Saunders, pictured, is enjoying the pressure of managing a club with such high expectations and Casey said: "We need to go up this season, we have to get promotion.
"I think the team is good enough and I hope we get a bit of luck along the way too. Jay doesn't seem fazed by the pressure at all.
"He knows what's expected but he's a very strong character, very focused and he has tremendous integrity.
"He's the perfect manager and has all the qualities to take us through to the next league and the league above."