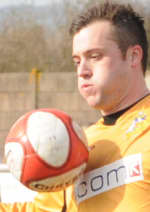 by Alex Hoad
Danny Hockton could have played his last game for Maidstone after he was placed on the transfer list by manager Peter Nott.
The former Millwall and Leyton Orient striker arrived amid a sizeable fanfare last November but failed to live up to expectations, notching just four league goals as the Stones struggled – only avoiding relegation in the final week of the Ryman League Premier Division campaign.
Hockton (pictured) signed a lucrative two-year contract after arriving from Blue Square South Chelmsford but, after seeing his playing budget cut ahead of next season, Nott revealed the 30-year-old's availability was circulated to all sides in the Ryman League and Blue Square South on Wednesday.
Nott said: "Danny understands that financially it is going to be very difficult for us to keep him.
"That said, until someone comes in for him then he is very much part of the club and if nobody does then he'll be part of pre-season like everyone else.
"All our players who have agreed to re-sign will be on either the same or reduced terms. We have had to renegotiate deals with many of them."
Roland Edge and Lyndon Rowland are two players who will not be returning next season amid the budget cuts, while Nathan Paul could also be on the way out.
Nott said: "A Blue Square South side have expressed an interest in Nathan and he is considering his options. He has shown a lot of loyalty to the club in the past so it is not a forgone conclusion that he will leave by any means."
Nott also revealed he was aiming to sign two new players after the weekend and hoped to have a clear idea of which members of his squad would be staying on reduced terms.
Do you think Hockton will be missed at Maidstone? Where do you think he may end up? Have your say below.