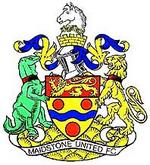 Maidstone have been dramatically reinstated into the FA Trophy after an FA hearing at Wembley Stadium on Monday morning.
The Stones lost 3-0 to Blue Square Premier side Histon at Homelands on Tuesday after the first round tie was postponed six times due to bad weather and an unplayable pitch.
However the Cambridgeshire side fielded teenage striker Jack Werndly, who signed for the Stutes on a work experience deal from West Ham after the deadline for inclusion in the Trophy tie.
The FA decided to kick Histon out of the competition and send the Stones through to face another Blue Square Premier side, Salisbury City, away in round two.
The Stones have also been given a financial boost after the £5,000 prize money for the first round was also awarded to them, the club having lost money on the original tie due to a small gate and the cost of the rescheduling the game so many times.