by Stuart Woledge
A man has been released on bail after an armed police stand-off at a house in Tonbridge.
Officers with rifles and dogs arrested the man in connection with a burglary in Sevenoaks early on Tuesday.
Several teams of heavily-armed officers surrounded the property in Hunt Road for several hours from about 8am while attempting to arrest a suspect.
Neighbours were told to stay indoors while a cordon was thrown around several streets.
A Kent Police spokesman confirmed at 11.15am that a man had been arrested.
Moments earlier, six heavily-armed officers carrying rifles and wearing bullet-proof jackets walked towards the property.
A Kent Police spokesman said: "Following a police deployment in Tonbridge, officers have arrested a man in connection with a burglary in the early hours of 19 March."
The force confirmed he has since been released on police bail pending further inquiries.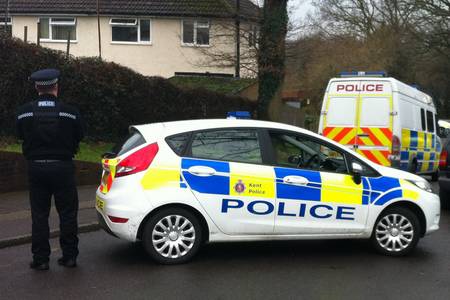 Neighbour Nicola Gibbs, 31, said: "People had been told to stay indoors.
"I saw the officers go in and bring out a man and then they left. It was scary not to be told what was going on.
"To see the police outside and in the back gardens with guns was quite a scary experience."
The scene is close to Woodlands Junior School and parents were sent text messages at just after 8.30am to say the road had been sealed off.
The school remained open, but a Police Community Support Officer was outside the gates.
Road closures were enforced for Hunt Road, Turner Road and Knight Road.
Kerry Ward, from Mereworth, was taking her four girls to the junior school and on-site playgroup when she saw police.
The 41-year-old said: "I got a text from the school at about 8.40am saying the road had been sealed off because of a police incident.
"There were police everywhere, I could see about five police cars already at the scene and as I was driving home another four or five went racing past me."