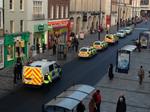 A homeless man has been charged with assaulting two police officers.
John Sweeney, of no fixed address, was arrested in Market Buildings, off Maidstone High Street, on Wednesday afternoon.
The 28-year-old is accused of theft and two counts of assault on police.
He will appear at Maidstone Magistrates Court in January.