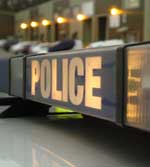 Police are ruling out murder after a 36-year-old woman was found dead at a Westerham home.
A man was arrested on suspicion of murder, but the death is no longer being treated as suspicious.
The woman's body was discovered at the Market Way property yesterday morning.
Police said the 38-year-old-man, also of Market Way, was taken into custody on suspicion of murder.
He has now been released without charge.
A crew from South East Coast Ambulance Service crew called officers to the property at just after 8am.