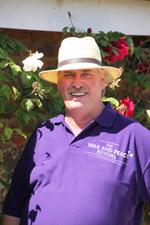 The world's biggest military vehicle show is leaving the Hop Farm.
After 25 years at the Paddock Wood attraction, organisers of the War and Peace Show have announced the rebranded operation will move to Folkestone Racecourse in 2013.
The new show, The War and Peace Revival, will feature the usual battle reenactments, displays of wartime weaponry and trade stalls.
But according to Rex Cadman (pictured), who has run the event since it was first held in 1982, next summer's extravaganza will be better than ever.
He said: "I'm incredibly excited about this new show at this wonderful new venue.
After 30-years The War and Peace Show was starting to become a little staid, so we decided it was time to finish it while our visitors still had fond memories of this amazing event and end on a high.
The new show will draw on our knowledge and experience and be even greater."
Mr Cadman, 55, said Folkestone's "unique" location played a big part in the decision to move.
"The venue couldn't be a better fit due to the amazing history of both the racecourse – RAF Westenhanger as it used to be
known – and this area of Kent," he said.
"The War and Peace Revival will continue to recognise the significant achievements and sacrifices of so many during our periods of conflict to keep our heritage British."
During its 30-year run, the War and Peace Show regularly attracted around 110,000 visitors and 4,500 military vehicles.
Fans travelled from Russia for this year's 30th anniversary event, which turned out to be the last held at the Hop Farm.
War and Peace Revival will take place at Folkestone Racecourse from July 17 to July 21.