by Chris Hunter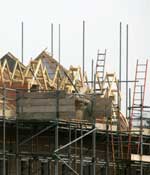 Developers have submitted plans for more than 100 new homes in Marden.
The application from Redrow Homes outlines a proposal for 100 houses and 12 flats on the former MAP Depot site off Goudhurst Road - but has raised concerns among villagers who want more say in how the village expands.
Kim Gibbs, 52 who lives next to the site, said it was a "David and Goliath" situation, adding: "they've been working on this for 18 months and we've got 21 days to respond."
The self employed carpenter accused the company of not communicating well with villagers and urged it to hold off until a neighbourhood plan has been drawn up and approved.
Read more in the Kent Messenger on Friday.