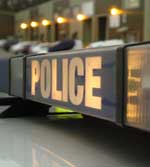 PERSISTENT rain has led to a culvert overflowing and blocking Bull Road in Birling.
A stretch of some 150 yards was flooded yesterday afternoon, up to a depth of three feet at its worst point.
The rural road is used by some local motorists as means of avoiding the West Malling Bypass, but they had to turn around when police closed the road.
It is still closed this morning.