A woman told a murder trial today how she watched her husband burn alive in their family home during an alleged arson attack by their son-in-law.
Amanda Crook, 50, escaped a blaze at Chatham Hill last September which killed her husband Mark, daughter Melissa, 20, and 15-month-old grandson Noah.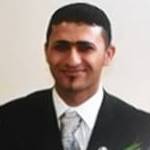 Melissa's estranged husband Danai Muhammadi (pictured left), his friend Farhad Mahmud and new girlfriend Emma Smith all deny three counts of murder and two of attempted murder.
The prosecution claims the two men, egged on by Smith, used a plastic can and a garden sprayer to pump up to seven litres of petrol through the letterbox and set it alight.
Amanda and her son Bohdan, who broke both feet when he leaped from his window, relived the terrifying ordeal this morning at Maidstone Crown Court.
Mrs Crook said: "I woke up and there was pink flames above my head, shocking pink, actually in the bedroom.
"I got out of bed and I ran round the bed to try and get through the hall to the children.
"Our bedroom door was always open. The whole of the hall was just a mass of flames.
"As I came to the bedroom door you couldn't come past, it was there, the whole of the ceiling, the whole of the hall, I couldn't get through the flames to get to their doors. You could not have come out through those doors at all.
"I ran round the bed, I woke Mark up. He jumped out the bed and straight at the door screaming for the kids to try and get out.
"Mark woke up, he said 'What's going on', I said 'I don't know, the house is on fire, we need to get out, we need to get out, I can't get to the kids.'
"I said 'Get out, get out, we can get the kids through the front.'
"I managed to get through the window and onto the flat roof and was screaming for somebody to come and get us down to get the children.
"Mark, because he was quite a big chap, got stuck in the window. It was too small a window for Mark to get out. I stood and watched him burn. I stood and watched the window melt around him and it was only when the window melted that he could get through.
"As Mark got through the window there was a fireball that blew the window out and that just engulfed him and I was screaming for somebody just come and get the children out.
"Time stopped and stood still. I don't know how long that was."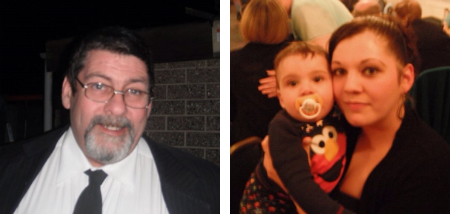 A neighbour called Joseph, who lived two doors down, heard the screams, fetched a ladder and helped the couple down from the flat roof.
Mrs Crook said: "I threw myself at the ladder and literally slid down the ladder. The next thing I remember banging on the patio doors, just 'let me get to the kids, let me get to the kids, let me get to the kids.'
"I remember as I did that there was a fireman coming through the house with a torch. I was swearing 'open the f***ing door, I need to get to the kids, I need to get to the kids.'
"When I got out the front I distinctly remember looking up the road and down the road and saw Bohdan on next-door's drive, and I knew they [Melissa and Noah] hadn't made it. They could not survive that fire.
"The heat was awful, the noise was awful. The heat was incredible. I could hear my hair burning, I could hear my hair singeing. The smell was awful. As you breathed in you could feel it burning.
"I couldn't understand how anybody could have done that, ever."
Mark died of his injuries six days later in the burns unit at East Grinstead Hospital.
Bohdan, who also gave evidence today, told how he broke his right heel and three bones in his left foot when he jumped from a window to escape the fire – and battled in vain to save his sister and baby nephew.
The court also heard today conflicting stories about Muhammadi, who Melissa met aged 14 but left on March 31 last year with her and Noah's clothes in black sacks after he assaulted her.
He admitted his guilt to the police, but Bohdan Crook said he was "controlling" and added: "Melissa would do as she was told. If he said make me a cheese sandwich, she would get up and do it. If he said make me a tea, she would get up and do it. It was kind of like my sister was a slave, that's how I always felt."
Muhammadi had spent Christmas 2008 and 2009 with the Crook family, where he was withdrawn, but stayed alone in Coventry in 2010.
Bohdan Crook claimed Muhammadi, who the whole Crook family called Sam, showed a glint of violence when the pair were drinking in the couple's home in Coventry.
He said: "We went out the front for a cigarette and Sam offered me £3,500 to throw acid in someone's face in Rugby."
Yet Amanda Crook said that apart from a few vicious arguments, Muhammadi remained in close contact with the family and had never threatened his baby son.
She added: "He called me mum."
The court heard Muhammadi, who wept in the dock when shown pictures of his son, had gone with Melissa, Noah and members of his family on a happy trip to a zoo or park in London just three days before the fire.
He drove Melissa back to Chatham and she was in high spirits.
Alan Kent QC, defending, asked Amanda Crook: "There was nothing to indicate that there was any flaw?"
She replied: "There were flaws, but nothing that set alarm bells ringing."
She added: "I think there was a part of her that still loved him. He was the father of her child."
Muhammadi, 24, of Britannia Street, Coventry; Mahmud, 35, of Fernhill Road, Maidstone; and Smith, 21, of Barley Lea, Coventry, are each charged with three counts of murder.
The trio are also charged with attempting to murder Amanda and Bohdan.
They deny all the charges and the trial continues.