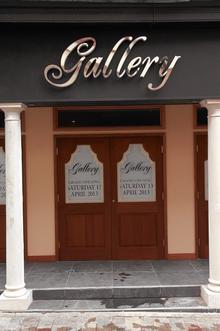 A new nightspot will open its doors to clubbers for the first time this weekend.
Anticipation has been growing throughout the winter as builders carried out work behind wooden panelling outside the old Loder & Payne Building at 87-88 Bank Street, Maidstone.
Now those panels have been removed to reveal the facade of the building's brand new guise – The Gallery Nightclub – and clubbers will be able to walk through the doors for the first time on Saturday, April 13.
The finishing touches have been put to the new venue, which has three rooms over two floors of the Grade II listed building – believed to be more than 300 years old.
A sneak preview revealed a multi-dimensional club which hopes to appeal to a wide cross-section of clubbers.
A huge chandelier shipped in from Paris hangs over the dance floor, which is surrounded by a 360-degree gallery, linked to the dance floor by a grand staircase.
A main bar area includes hand-carved stone pillars, a quartz-topped bar and bespoke doors, while upstairs 'The Library' offers a different atmosphere aimed at those who want to relax away from dance floor.
Last year an application for a sex entertainment licence in the upstairs section was turned down – and with the strip club operators no longer involved the upstairs section should take on a classier feel.
Different music will be played in different sections of the club.