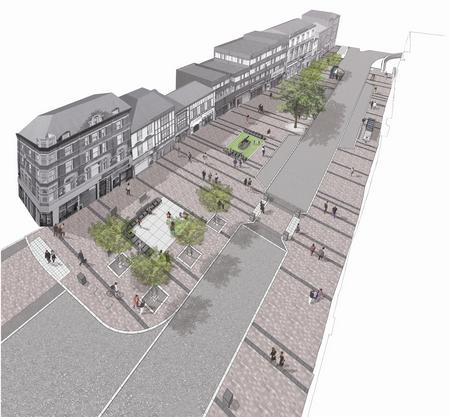 by Angela Cole
Here's the first glimpse of what Maidstone's lower High Street will look like once it has been given a million pound-plus revamp later this year have been revealed.
The new design, which differs slightly from the originals produced before, includes a flexible events space – similar to Jubilee Square – new street furniture, seating and trees.
Maidstone council cabinet member Cllr Malcolm Greer (Con) said: "We have spoken to businesses and others in the Lower High Street and made changes as a result. We have extended the granite paving and added more trees and seating, and another loading area.
"We have reduced the grassed area to create a larger granite area for people to sit outside the restaurants and cafes in the Lower High Street."
The £1.2m regeneration is due to start in April and will last around six months. It will use the same materials as the completed section of the High Street, Jubilee Square and King Street.
The council has not yet announced the contractor who will carry out the work.