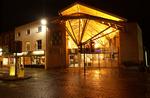 A police officer and security staff were injured during a disturbance at the Mall Chequers in Maidstone yesterday afternoon.
They suffered minor injuries after being called to deal with an alleged scuffle between four men in the High Street shopping centre at about 4.10pm.
The men, aged between 18 and 21, were being escorted from the building by security staff when trouble reportedly flared.
Police were called and all four men were arrested.
Three members of security staff were allegedly injured during the incident.
An 18-year-old from Bobbing and two men aged 19 and 21 from Sheerness were arrested on suspicion of assault.
A 20-year-old from Sheerness was arrested on suspicion of obstructing a police constable.
All four were released on police bail until December 20 pending further investigations.