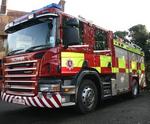 Firefighters prevented a blaze spreading from the cab of a petrol tanker to its highly-flammable load this morning.
Crews put out the fire in Vauxhall Road, Tonbridge, at about 7.50am.
Kent Fire and Rescue Service said the driver's cab was destroyed by the flames.
Fire crews were at the scene for about half-an-hour.