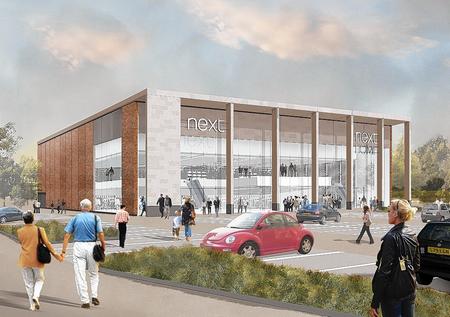 Plans have been formally submitted for a £9m Next store off junction 7 of the M20.
The joint proposal between Next and Gallagher Properties, exclusively revealed by this paper in November, is for a home and fashion outlet near the Hilton Hotel at Eclipse Park.
It follows a public consultation before Christmas which the applicants claim provoked a positive response.
Iain Allsop, regional estates manager at Next, said: "We were very encouraged by the reaction to our plans as just over 90% of the feedback forms we received from the public exhibition we organised showed support, or support with reservations, for our plans."
Next claims the proposed store, which will house a cafe and sale clothes, furniture, DIY and decorating products, will generate about 180 jobs.
Nick Yandle, Gallagher's chief executive, claimed the proposed outlet would "increase the attractiveness of Maidstone".
He said: "Furthermore, we expect that Next's profile and the new format store will draw trade in from Ashford and the Medway towns, as well as from a large part of central Kent."
The application can be viewed online at www.maidstone.gov.uk