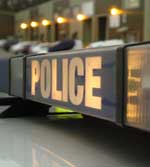 by Angela Cole
Thieves took £1,000 from an elderly woman's bank account after distracting her and taking her purse.
The incident happened in Maidstone when the 84-year-old woman was putting shopping into her car in a supermarket car park on Wednesday.
A man and a woman who engaged her in conversation, tried to give her a £10 note, but after they left she checked and her purse was missing. The money was later taken from her account.
A similar incident happened in Tonbridge last month, when a man with a map approached a woman and asked for directions to Gatwick. She later found her handbag had been stolen from the back seat of her car.

DC Mark Whewell-Jones from Kent Police said: "We don't believe these are opportunist thefts. The suspects appear to choose who they will target and then discreetly watch them enter their PIN numbers whilst paying for goods, and then use a distraction technique to try and steal the card. We are examining CCTV footage in relation to this incident, but would urge shoppers to shield the keypad when entering their PIN numbers, and be conscious of being distracted by unknown people. We also recommend the use of purse chains, which connect the purse to the handbag and also suggest people keep valuables in inside coat pockets."

Officers have urged people to take care of their valuables. including not leaving them on show in your vehicle and to never leave your vehicle unsecure.
Anyone with any information on the two incidents should call police on 101.