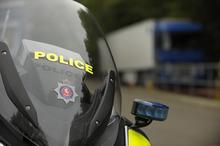 Volunteer officers from Kent Police's Special Constabulary stopped 31 vehicles during a road safety operation.
The road check was set up on Monday, November 12, in Hermitage Lane, Barming, to tackle driving offences such as using a mobile phone whilst driving and failing to wear a seat-belt.
Ten drivers were issued fixed penalty notices and a £60 fine.
Eight drivers were issued with defect notices for failing to correctly maintain their cars, and must rectify the faults within 14 days.
Seven drivers were required to undertake breath tests.
Eight drivers failed to produce their driving documents and must now present them at their local police station.
Police sergeant Neil Drapper from Kent Police said: "Offences such as using a mobile phone at the wheel put lives at risk, and through the support of our Special Constables we have been able commit a significant number of officers to tackling this type of offending in addition to our day to day patrols."
He added:"During the winter months it is extremely important that drivers have all their lights working and have a good amount of tread on their tyres as this can reduce the risk of collisions on the road. We are really grateful for the support of Special Constables, who take time out of their day jobs to contribute to their community and we have similar operations planned in the near future."
As part of National Road Safety Week, officers from the Kent Police roads policing unit will be hosting an online web chat from 6pm-7pm on Wednesday, November 21. Visit www.kent.police.uk/onlinemeeting to take part.