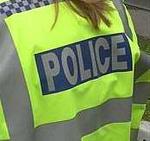 Drivers have been issued with pens to help tackle vehicle theft.
The UV markers were handed out by police in west Kent to combat crime across Sevenoaks, Tonbridge and Malling, Maidstone and Tunbridge Wells.
Sat nav dusters were also provided following a series of recent tool tool thefts from vehicles in the Lenham area.
Officers have been working with traders to protectively mark their tools so the items can be returned if lost or stolen.
As part of Operation Castle, a countywide burglary and vehicle crime operation, officers are also urging vehicle owners to protect their catalytic converters.
Drivers should put vehicles in garages when possible and vans parked in a way which makes underneath access more difficult.
Security items such as forensic marking, etching packs, security cages, clamps, cables and alarms are available to protect catalytic converters.
Chf Insp Lee Russell from Kent Police said: "Offenders look for easy targets and by marking and protecting your property, you will reduce the risk of your belongings being targeted."