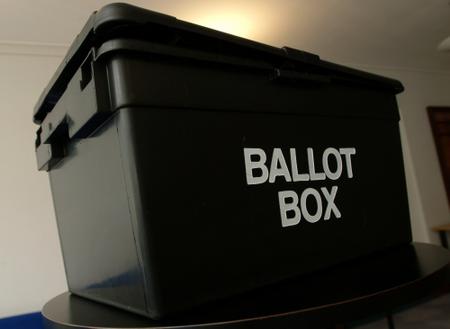 by Stuart Woledge and political editor Paul Francis
Allegations of bogus candidates have prompted police to launch a fraud investigation ahead of next week's county council elections, it has been revealed.
The right-wing English Democrats are at the centre of the inquiry following a complaint at least one of the nationalist party's candidates does not appear to exist.
Officers are examining the legitimacy of Anna Cleves, who is listed as a prospective English Democrats county councillor for Malling Central.
There are two English Democrats standing in Maidstone and five in Malling. There are no candidates in Weald.
According to Anna Cleves' nomination papers, she is registered as living at Elm House in Oakfield Road, Dartford.
But an investigation has revealed no such person is registered as living at the address, which itself appears to be fabricated.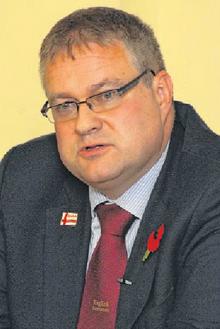 English Democrats south east area chairman Steve Uncles, who lives in Oakfield Road and is pictured right, said his house was built on the site of a property once called Elm House.
Anna Cleves' nomination papers were signed by an Adam West – also the name of the actor who played the fictitious crime fighting superhero Batman in the 60s – on April 1.
Mr Uncles believes he has been set up as an elaborate April Fool's joke.
Questions are now believed to have been raised about the legitimacy of other English Democrat candidates ahead of Thursday's election.
Biographies of all the English Democrats' 23 candidates appeared on Mr Uncle's website last week, but have now been taken down.
Anna Cleves was said to have joined the English Democrats when she left a rival party following inappropriate advances from a man.
Mr Uncles said: "As far as I'm aware, the papers that were submitted to me, that was the actual lady's name, but I think this is a sting."
The authorities take a dim view of electoral fraud, and if someone is convicted they could be jailed.
A police statement said: "Kent Police is investigating after concerns were raised surrounding electoral nomination papers."
Neither police nor the local authority would confirm exactly how many identities were being probed, but the alleged fraud does not apply to all English Democrats candidates or any other party.
Precisely how nomination papers with apparently false information came to be accepted is unclear.

Tonbridge and Malling Borough Council was responsible for approving the papers in question.
In accordance with the law, each candidate was nominated by 10 assenters, including a proposer and seconder.
The council states those individuals' particulars - including their names, addresses, and electoral numbers - were properly checked against the electoral role to ensure they existed.
But officers did not check whether candidates, such as Anna Cleves, or the person who signed the form on behalf of the party, in her case Adam West, were bona fide.
The borough council said it was not obliged to do so.
Other candidates' papers standing for the English Democrats in Tonbridge and Malling were signed by Mr Uncles.
The borough council then submitted the papers to Kent County Council, which is running Thursday's election, when all 84 seats across the county will be contested.
The borough council has refused to comment any further.
Returning officer for the elections, Kent County Council's Geoff Wild, said he was only required to consider nomination papers "at face value" after receiving them.
He said: "The returning officer is not permitted to investigate candidates or their particulars, other than to consider the papers submitted and ensure they are in order."The Electoral Commission confirmed returning officers accept nomination papers "on trust".
They could informally check them for candidates, but only if asked to do so.
Once papers are submitted they are "reminded by the returning officer that the information must be truthful".
---
History scholars will know Anne of Cleves was the fourth of King Henry VIII's six wives, who was born in Germany in 1515.
The story goes a painting was presented to the Tudor monarch in which she was depicted as a beautiful maiden.​
But the King was disappointed when he finally got to see her in the flesh, and the couple divorced just months after tying the knot.
Fiction fans will also recognise Adam West as the name of the actor who played caped crusader Batman in the 60s.