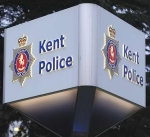 Kent Police will take on retailers this weekend in a charity football match.
Officers from the Maidstone's neighbourhood policing team will compete against teams from The Mall Chequers, including management, in aid of Bliss.
The aim of Sunday's match is to raise more than £300 for the charity, which offers support and services to premature babies in the UK.
Neil Lettington, from Kent Police, said: "Although we all work for different organisations, we all work as one team to keep Maidstone safe.
"This tournament is an opportunity to not only do something fun and get our competitive juices flowing, but more importantly to raise money for a really valued charity, which has provided much-needed support to one of our colleagues over the last few months."
Paul Alcock, The Mall's general manager and former referee said: "Not only does this give the retailers and the police opportunity to socialise; it also gives an opportunity for them to raise funds for a very worthwhile charity. Fortunately I have managed to avoid the refereeing bit!"