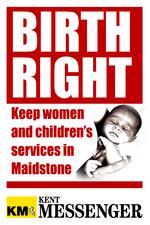 by Angela Cole
We need your help to choose which charity should benefit from £4,320 raised in our Birth Right campaign.
Donations flooded in when the Kent Messenger appealed for help to raise £30,000 to trigger a judicial review to save women and children's services at Maidstone Hospital. A pledge of £6,000 took our total to more than £10,300.
But KCC decided not to lodge the appeal, so the money will be donated to a suitable registered charity, although the fight to retain services continues.
Candidates include: the Maidstone Hospital League of Friends, the National Childbirth Trust Maidstone branch, SANDS (Stillbirth and Neonatal Death Society), Maidstone Mencap Charitable Trust, Action for Children, Teenage Cancer Trust, Demelza children's hospice, Homestart, Crossroads Maidstone Young Carers Project, NSPCC Kent and Medway branch, and Gingerbread (charity supporting single parents).
Let us know what you think. Email messengernewsews@thekmgroup.co.uk