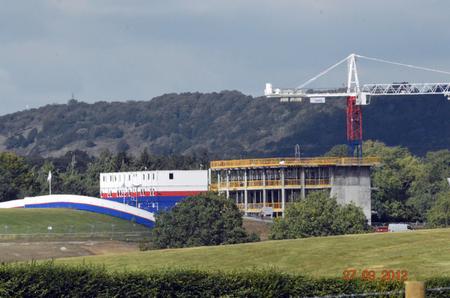 She's going up! Work on the new Kent Institute of Medicine and Surgery at Newnham Park is now well under way.
Contractors Vinci Construction are making fast progress erecting the new private hospital set to be the hub of a specialist medical campus for the south of England.
To date, 379 people have worked on the construction of the buildings, and a spokesman for Vinci Construction said that 35% of the employees are local residents living within 10 miles of the site.
Cllr Malcolm Greer (Con), Maidstone council's cabinet member for regeneration, said the hospital would provide a major fillip to the town's economy.
He said: "As well as the jobs already created, when the hospital is up and running the salaries of those employed there will bring a big boost to the Maidstone area."
Vinci Construction is making a determined effort to involve the community in the project. It has arranged visits to the site for parties of local schoolchildren and invited students from the University of the Creative Arts in Maidstone to design artwork to feature within the hospital.
The hospital, which will have a quarter of its facilities dedicated to use by NHS patients, is scheduled for completion in January 2014.