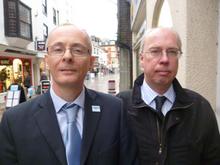 To use one of the Prime Minister's favourite expressions, the public needs to wake up and smell the coffee.
That is the view of the National Association of Probation Officers (NAPO) as the Government prepares to embark on what the union describes as "the fragmentation" of the service.
The Government is consulting on plans to farm out responsibility for "low-risk" offenders to private companies or charities, leaving the rump of the probation service with just the most difficult, high-risk contenders to supervise.
The Under-Secretary of State Jeremy Wright was in Maidstone on a private visit to the probation office at Chaucer House in Knightrider Street and to Fleming House bail hostel in Tonbridge Road to try to convince staff of the benefits of the idea.
But the regional co-chairman and vice-chairman of NAPO, Eric Puce and Chas Berry, came out of the meeting unconvinced.
Mr Berry said: "Breaking up the service among a number of providers will create a risk that gaps could appear in the management of offenders. The government is playing fast and loose with a service that has served the country well for 105 years. We are not a failing service."
Mr Puce said: "Some people still think probation officers are sandal-wearing do-gooders. Actually we are highly trained professionals."
Mr Berry added: "It is likely the probation service workforce will be reduced by around two-thirds, and instead money will be given to firms such as G4S."
Mr Wright said it was far too early to speculate about job losses in the probation service. He suggested that many probation officers would find work with the new providers, or could amalgamate to put in their own bid to run part of the service in a kind of management buy-out.
He insisted the purpose of the changes was to cut re-offending levels, and not to save money, and that the bids would be awarded "not just on price, but on the quality of the offer."
But Mr Berry warned: "There are many issues the government has not thought about. The service currently uses a very complex computer programme to track offenders. You can imagine how things could go wrong with many different providers using their own systems.
"The probation service is the glue that holds the whole justice system together."