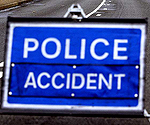 Motorists faced unwelcome delays on Hermitage Lane, Barming, during this morning's rish hour, after a collision between a lorry and a car.
The car was so badly damaged that poilce had to call a recovery vehicle to have it removed.
Fortunately neither driver is believed to have suffered serious injuries.
The incident happend at 7.41am and traffic was disrupted for several hours.