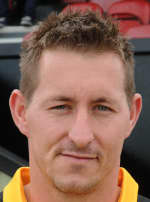 By Craig Tucker
Maidstone captain Shaun Welford has snubbed a big-money move to Hythe.
The striker held talks with Hythe this week but told Stones manager Jay Saunders on Thursday morning that he'd be staying put.
Welford (pictured) said: "Normally I wouldn't even have to think about it but the offer from Hythe was so good that I had to consider it.
"I was shocked how much they were offering. I spoke to my wife and kids about it and they wanted me to stay at Maidstone. I slept on it on Wednesday night and made up my mind I couldn't leave.
"Maidstone's a massive club and there are so many things keeping me here. It's the whole package with the stadium, the fans and the pitch and it's a club on the up.
"It's my hometown club and I'm proud to be captain. It's nice walking round the town and getting stopped by people for a chat."
Stones boss Saunders has the task of working out the most effective partnership and he's delighted his captain is staying at the Gallagher Stadium.
He said: "He knew from the outset there was no more money here and, to be fair to Shaun, he didn't ask for more. He's with us because he wants to be here."