by Anna White
A supermarket worker took matters into her own hands when temporary traffic lights failed and brought a busy junction to a standstill.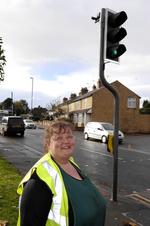 Tracy Bodkin, 47, a supervisor at Spar in Boughton Parade off Loose Road, was hailed a hero by motorists when she began diverting cars outside her workplace on Tuesday afternoon.
There were tailbacks were on both sides of the main road, towards Coxheath and Maidstone town centre, down Cripple Street and Boughton Lane, until she intervened.
Mrs Bodkin, of Chislehurst Close, Senacre, said: "The cars weren't moving so I thought 'right, I'll do something about it'.
"Everyone was grateful. One van driver gave me a high-vis jacket."
Tracy was there for about half an hour before police turned up.
Kent Highways had installed the lights on Monday while South East Water engineers fixed a leak. They were removed on Tuesday evening.