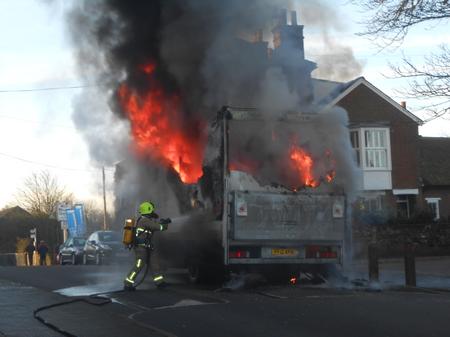 by Nick Lillitos
Fire crews battle a fierce lorry blaze in West Malling as flames shoot some 20ft high.
Kent Police closed roads around Town Hill this morning as firefighters battled the blazing HGV.
Fire broke out near West Malling Garage at about 8.45am.
The blaze was extinguished by 9.20am and police said they had no reports of injuries.
Two fire engines used hydrant jet hoses and breathing apparatus. It is not yet clear what the vehicle was carrying.
David Kemp, who lives nearby and witnessed the scene, said: "How it didn't blow up I don't know.
"The black smoke was really intense and flames were leaping some 20 feet up. The driver's cab was completely gutted."