More than 60 drivers have been caught out in a crackdown on speeding in Kings Hill.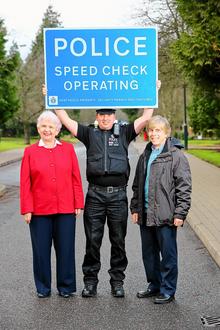 Kings Hill Parish Council representatives and Insp Nick Sparkes were at Gibson Drive on Tuesday to announce the continunation of Operation Race – which has seen police step up efforts to stop speeding on the estate.
Police speed checks have been conducted on six days since November – resulting in 33 fixed penalties being handed out, 28 drivers being sent on driver improvement schemes and two drivers summoned to court.
Residents have long complained of drivers ignoring the 30mph speed limit, but as the population of Kings Hill continues to grow they say the time has come to clamp down before lives are lost.
Funded by Kent County Council – following calls from residents and KCC Cllr for Kings Hill Richard Long – the operation will run until April.
Parish councillor Dave Waller said the council had also obtained a speed indicator device which had recorded speeds of more than 60mph.
He said it was particularly important to protect children as they walked to Kings Hill's schools, and hoped news of the operation would "make people realise we're serious."
"This is a problem and we want to fix it," he added. "Hopefully the exercise will make people stop and think. We're not doing it for fun. There are kids out there. It's dangerous and we want it to be safe."
Parish council chairman Sarah Barker said: "This is an increasing population. We have the safety of residents, children and visitors at heart. We must get across to people speeding is an offence and there are speed limits on Kings Hill."
Insp Nick Sparkes, from Kent Police, said: "It's a real mix of people we've been dealing with, from visitors to the estate to people living here. The message to them all is 'you need to reduce your speed'."