by Chris Hunter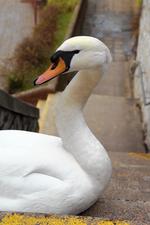 chunter@thekmgroup.co.uk
"DUCK!" "No, swan!"
It's one of the most graceful sights in nature – a winding river, a crisp winter morning, as a white swan glides down from the November sky, wings outstretched in majestic poise... and glides smack-bang straight into Maidstone bridge?
This dozy bird is more likely to get a part in TV stunt show Jackass than Swan Lake.
Luckily Yvonne Pink from Vision 3K in Week Street was on hand to help the stunned flier.
"He hit the wall and landed on his back on the pavement," said Mrs Pink, of London Road, Ryarsh.
"Then he sat up and looked around. He was a little bit shocked for a while."
There was some concern the crash-lander might wander into the road, so Mrs Pink and her friend Jackie tried to shepherd him to the steps leading down to the river.
A showman to the end, the stricken swan waited 10 minutes as the crowd grew before taking the plunge back to the water.
Mrs Pink – a member of the RSPB – is unsure whether the bird is a male. But if he is, he's may be even more embarrassed. The watching crowd named him Bridgette.