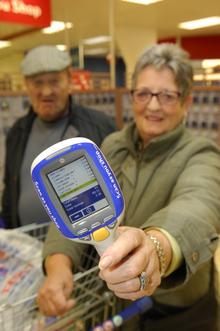 To Tesco, this little scanner could be the most revolutionary thing in supermarket shopping since a voice started telling us there was an "unexpected item in the bagging area".
As part of a £1 billion investment by the supermarket giant improving its stores across Britain, new Scan as You Shop devices have arrived at stores in Grove Green and Larkfield.
The scanners fit into the handle of a trolley and you scan the things you are buying as you go around the shop and pack them straight into your bags.
When finished you pay at a console and leave. The idea is that shoppers avoid lengthy queues to pay.
They will also be able to weigh their fruit and vegetables and Tesco has pledged to carry out random checks on shoppers to crack down on any thefts.
But the scanner concept was first tested at stores in Maidstone in 1995.
Called Portable Personal Shopping back then, Safeway (now Morrisons) in Park Wood piloted the new devices but later withdrew them.