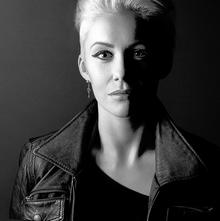 by Chris Hunter
From the Tricolour-waving Marianne to the cigar-chomping Che Guevara, every revolution needs a talismanic hero.
Could the flute-toting Andrea Magee be about to find a place in history?
The Belfast-born singer known simply as Magee found brief fame on TV's Fame Academy in 2003 before losing out in the final stages of the programme – but 10 years later she's bounced back to win a record deal the proper way after forging a career as a live performer and music teacher.
Now, after leaving her job as the head of music at Wrotham School, the Maidstone-based singer, 27, is relaunching her bid to find full-time music success – but her determination to inspire youngsters and bring music into the community means she could also be launching a mini music revolution here in Kent.
Flute in hand, like a better-looking, better-intentioned version of the Pied Piper of Hamelin, Magee is leading young and old alike away from the world of mass-produced pop to a place of musical enlightenment; namely the Lobster Pot pub in West Malling and the Green Man in Hodsell Street, near Wrotham, where her open-mic nights are gaining legendary status.
"Fame Academy opened my eyes to the industry," she said. "It's made me go in the opposite direction. The thing was I grew up in Ireland doing this all the time, with people just sitting around in pubs playing. It's sad that it doesn't really exist here. There are open-mic nights, but I've been to a lot that are very structured.
"I like to keep it open and family-orientated. The reason I can get up and sing easily is because I've done it from a young age.
"It's just the way things are. It's breaking down the barrier and making people realise that barrier is not as big and strong as you think. There's just so much talent – I think it is born from the likes of X Factor in a way, but a lot of them are so brainwashed, they think the only way to do it is the X Factor way."
Through combining youth and tradition – something her own music does with its meld of folk melodies and underground electronic sound – Magee could well end up building a music scene stronger than anything previously seen in small towns like West Malling, where her inspiration has prompted would-be artists to perform and bands to form.
And although her ultimate aim is to be a full-time musician, Magee still works with Grange Park special needs school in Wrotham and has ambitions to expand her own performing arts school – Magee Mentoring.
"If nothing comes of the music I'll still have a happy life sharing music with kids," she said. "Every success I've had has come from the students and from being a teacher."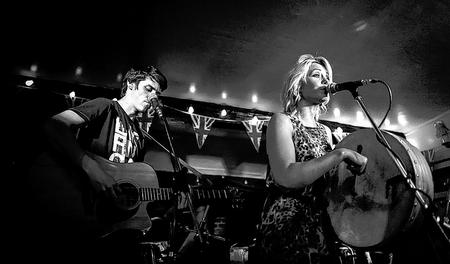 Fellow music teacher and skilled guitarist Gary Lucas regularly performs live with Magee and also believes fostering live music is important in challenging preconceived notions of musical success.
"I have felt at my most successful when I finish a gig and strangers approach us, delighting in telling us how much they enjoyed their evening," he said. "There is a look in these people's faces that I recognise after each gig - it's contentment and gratitude."
Magee's debut EP is due to be released this summer, produced by Benny D, who has produced Paloma Faith and Plan B.
Watch Magee on Friday, February 15, at The Beaches Restaurant, in Seven Mile Lane, and Saturday, March 2, at the Lobster Pot in West Malling.
For more information visit www.andreamagee.co.uk