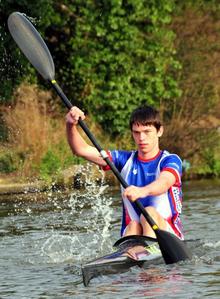 After enjoying all the delights that London 2012 had to offer, Sutton Valence canoeist Peter Bannister cannot wait to try and emulate the feats of some of his heroes.
The 18-year-old, who carried the Olympic Torch through Harrietsham on July 19, saw his K4 kayak team just fail to make the event final at the Junior European Championships in Portugal in July.
"This year has been pretty good – I reached my main goal of getting to the Junior European Championships in Portugal this July," said the Sutton Valence School pupil, who benefits from being a member of the Lloyds TSB Local Heroes programme.
"It would have been nice to have got into the A final in the K4 4,000m but our heat wasn't great and we missed the A final by one second.
"Our heads were definitely down after that but coming seventh in the B final wasn't bad."
Bannister, who first got into canoeing through his father Michael at the age of 12, said meeting some of Britain's canoeing medallists has been a great motivator to spur him on next season.
"It was brilliant to see Jon Schofield and Liam Heath win bronze this summer – they came along to my club in September and I got to chat to them," added Bannister.
"I have just finished my last year of juniors and I have now got my eye on the U23 European Championships in Poland in June and the U23 World Championships taking place in Canada in August."
Lloyds TSB Local Heroes, in partnership with SportsAid, provides support and funding to 346 of Britain's most talented developing athletes on their journey to London 2012 and beyond. Since 2008, the programme has supported 1,000 athletes. Follow future stars at facebook.com/lloydstsblocalheroes