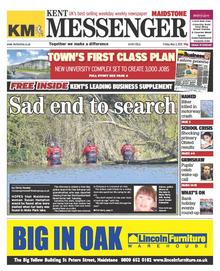 Packed with news, views, competitions and sport The Kent Messenger is out today
Inside, a family speak of their anguish and pay tribute to 64-year-old Susan Hampton, after her body was discovered in the lake at Mote Park.
An education expert warns a high number of Maidstone schools are getting critical Ofsted reports.
First class plan! A new medical university campus could create 3,000 jobs.
The popular Maidstone River Festival might be sunk - unless a sponsor can be found.
Thieves swipe thousands in daring fuel thefts.
More on the allegation of election fraud - as people living in nearby streets in East Malling and Borough Green say they were duped into signing nomination forms for some candidates.
Why residents in Lenham are clubbing together to buy a field to save it from becoming a site for gypsies and travellers.
We go along to an "Ann Force 1" meet the commissioner public event and put some questions to the policing guru.
And a picture special on the day DJ Grimmy rocked up at Valley Park School.
In the Weald, we speak to the antiques dealer soon to feature on Ch 4's Four Rooms programme.
In Malling, a government planning inspector says Tonbridge and Malling council has underestimated the number of gypsy pitches needed, which could result in more illegal camps springing up.
Plus a bumper edition of What's On magazine packed with ideas for making the most of the long bank holiday weekend.