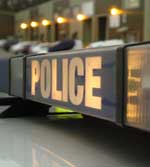 by Angela Cole
Police are appealing for help in tracing a man who threatened another in a road rage incident.
The incident happened when a driver who was travelling towards Maidstone on the A249 beeped at a blue Ford Mondeo which swerved towards him.
When the two cars stopped in traffic on the approach to the Stockbury roundabout, the Mondeo driver is reported to have got out of his car and punched the other car window and shouted at him. He then went to return to his car, but went back and punched the window and shouted again.
He is described as white, around 40, of slim build, wearing a blue or green jumper.
Anyone with any information should call PC Tom Farley on 101, quoting crime reference YY/19851/12. Alternatively, contact Kent Crimestoppers on 0800 555 111.