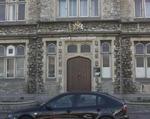 A thug who bit a police officer's finger then told her he had Aids has been jailed.
Allan Hobbs from Lenham was sentenced today at Maidstone Magistrates' Court.
He pleaded guilty to assaulting a police officer, using threatening behaviour and two counts of battery against a father and son at a previous hearing.
The court heard how Hobbs, 29, from Hill Crescent, attacked Sgt Lyn Cooper after she was called to deal with a fracas between him and two men outside the Red Lion pub in Lenham at about 6.30pm on November 16.
It followed an earlier road-rage incident in which Hobbs accused van driver Ivan Coppins of cutting him up.
Hobbs followed Mr Coppins and son Alexander to the pub where he attacked them.
He punched Mr Coppins twice in the face and grabbed his son by the throat.
At a previous hearing it was told how a Special Constable, who was passing the pub, restrained Hobbs and handcuffed him.
When police officers arrived to arrest him, he bit Sgt Cooper's finger and told her he had Aids.
The officer was "unfazed" by the claim because she thought it likely to be a lie, the court heard.
On the day of the incident, Hobbs, who had previously been banned from the pub, appeared at Folkestone Magistrates' Court where he was given a community order for a racially aggravated offence and assaulting a police officer.
In sentencing, Magistrate Lousie Bryant said Hobbs took part in a deliberate attack which also caused distress to customers at the pub.
He was jailed for 120 days and ordered to pay £100 compensation to each of the three victims.